Banks and Local Government Engage in Discussions on Stimulating Responsible Mining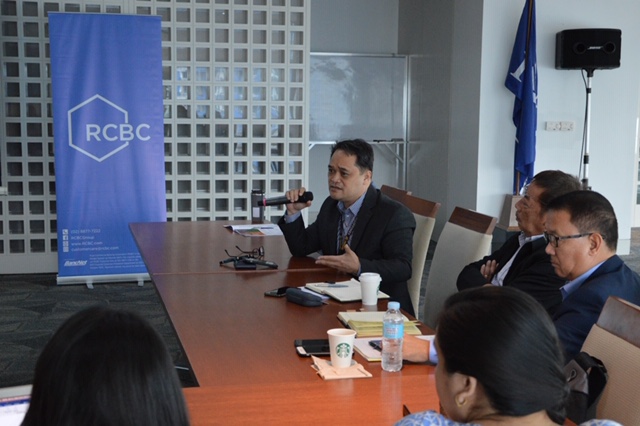 In photo: Chamber of Mines representative Executive Director Atty. Ron Recidoro shares key issues facing the mining industry in a roundtable discussion amongst stakeholders from both public and private sectors. There were 16 key attendees in the discussion.
Representatives from major banks took part in discussion to operationalize responsible investment on mining projects. In the recently held roundtable discussion hosted by RCBC, the meeting focused on building consensus to enhance current mining-related Policies in the Philippines.
This roundtable discussion is part of continuing effort for dialogue among stakeholders from civil society organizations, the mining industry, as well as the national and local governments. The meeting was attended by representatives from the Chamber of Mines of the Philippines, Philippine Extractive Industries Transparency Initiative (PHEITI), Mines and Geosciences Bureau, as well as financial institutions working in close proximity with the local mining industry.
The event was organized by VBDO (the Dutch Association of Investors for Sustainable Development), in partnership with Bantay Kita, a national coalition advocating for enhanced natural resource governance and hosted by RCBC.
Ms Jacqueline Duiker, Senior Manager Sustainability and Responsible Investment at VBDO thanked RCBC for hosting the event and concluded that the roundtable discussion had - wonderful cooperation and good open discussion among the attendees. Ms. Duiker was particularly impressed with RCBC initiatives to promote sustainable finance in the Philippines.
RCBC's Chief Risk Officer Jamal Ahmad said that, "Environment and Social Risk Management is a cornerstone of the Banks Sustainable Finance strategy. RCBC is delighted to host this event and will continue to play a leading role by bringing the financial sector, civil society and public policy makers to support sustainable finance in the Philippines".